MHSS' Whizzy Works join journalism seminar and competition at PNU
Thursday, December 1, 2011
Placed 6th among 100 contenders in the copyreading and headline writing category contest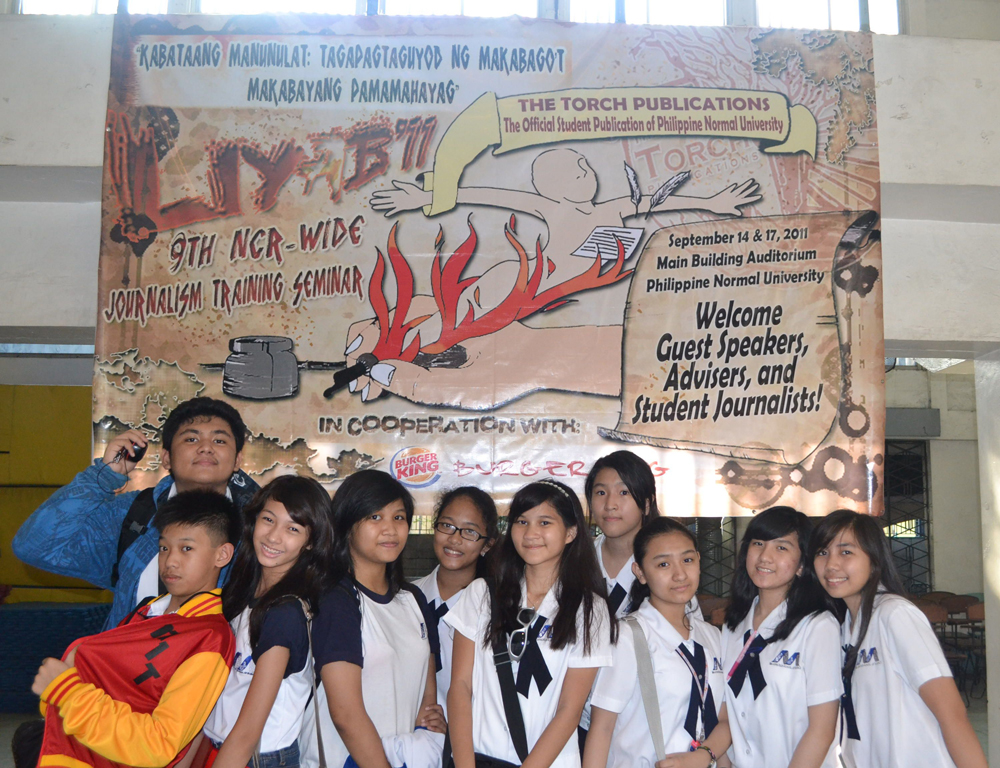 The representatives from Malayan High School of Science in the annual Philippine Normal University's (PNU) 9th Journalism Training Seminar.
The Malayan High School of Science (MHSS) has joined and competed at the Philippine Normal University's (PNU) 9th Journalism Training Seminar, with one of its students placing 6th among the 100 contenders in the copyreading and headline writing category.

MHSS was one of the estimated 50 schools from the National Capital Region that participated in this year's seminar. Manila Science High School, Chiang Kai Shek College, Jose P. Laurel High School, Lakandula High School and Don Bosco Technical School were among those that also joined the event.

Dubbed "LIYAB '11-Kabataang Manunulat: Tagapagtaguyod ng Makabago't Makabayang Pamamahayag," the annual seminar was organized by PNU's official publication called The Torch.

Eleven MHSS students, all of whom are members of campus paper Whizzy Works, represented the school. The participants were sophomores Gabrielle Simeon, Romeo Silva, Angelica Torres, Loi Tibay and Alexandra Fabella; juniors Jillian Bautista and Gabriella Murillo; and seniors Earl Parungao, Mayo Viray, Marquitta Fabella and Kyle Dionisio.

All students underwent rigorous trainings in various topics including news writing, editorial writing, editorial cartooning, sports writing, feature writing, copyreading and headline writing, lay outing, libel and ethics, campus paper management and short story writing.

"The seminar was held in the morning and the competition for each category, except for libel and ethics, lay outing, campus paper management, and short story writing which did not have competitions, was held in the afternoon," said MHSS teacher and Whizzy Works adviser Erika Gin C. Constantino.

The organizers recognized the top 10 students in each category wherein Torres, a sophomore student from MHSS, ranked 6th out of the 100 participants in the copyreading and headline writing competition.

Promotes social awareness

Constantino said the seminar provided the students a venue to exercise their journalistic skills.

"The exposure of the students to outside activities especially those involving their craft are beneficial. They get to exercise their talents in a friendly and substantial competition," she added.

Aside from trainings and exposure, it also honed and showcased their abilities as young campus journalists, she said.

The Whizzy Works adviser noted that getting involved in journalism at a very young age is crucial in order to increase the social awareness of the young.

At MHSS, trainings for the 20 staff members of Whizzy Works are regularly being conducted, she said. "In-house trainings are being held every scheduled club meeting at the school and every Saturday at the Mapúa Institute of Technology every time the schedule permits."

The staff members of Whizzy Works had their very first training in Mapúa. In cooperation with Mapúa's official paper, The New Builders, the training covered basic topics such as news writing, feature writing, sports writing, and editorial cartooning and writing.

The PNU seminar was held from September 14 to 17 of this year.