MHSS conducts robotics workshop-seminar
Tuesday, November 29, 2011
The participants of Malayan High School of Science's first robotics workshop-seminar test their works through a friendly sumobot match.
The Malayan High School of Science (MHSS) held its first robotics workshop-seminar for elementary students as part of the school's efforts to train young minds and develop their technological know-how.

Four schools, with three to four representatives each, participated in the October 18 seminar at the school's Audio Visual Room. The participants from Adamson University, St. Peter the Apostle School, Blessed Hope Christian School in Makati and Chiang Kai Shek College were taught the basic concept of robotics.

Dubbed as the "Malayan Robotics Workshop Seminar," MHSS Physics and Robotics teacher Dhonny Bacuyag, who is taking up his masters in Physics at the De La Salle University, particularly discussed basic robotics' construction and programming.

"When you say robotics, it should be controlled by a computer, with a program. It must not be controlled outside, and that it can manage to move by itself," said Mr. Bacuyag.

Each school was given enough time to design and construct their own simple robots after Mr. Bacuyag's lecture. To test their works, a friendly sumobot took place wherein a robot from one school was pitted against another. Blessed Hope Christian School was declared the winner in the competition.

MHSS is one of the few schools in Metro Manila that has robotics as part of its curriculum. This is in line with the school's goal to "provide varied fields of interests in its curriculum so that students have choices to nurture their individual knowledge and skills," said MHSS principal Dr. Efren B. Mateo.

The school also reaches out to students from other schools, specifically elementary pupils, to boost their interest in science and technology. Dr. Mateo said the October 18 robotics seminar was aimed at getting them more enthusiastic and involved.

"Honing the talents and skills of students towards technology is very timely because in this generation of Steve Jobs – the creator of iPad and all those high-tech gadgets with brand names starting with 'i' and which is now the icon of Apple – we need developed technology to propel our country forward. It is its advancement in science and technology that puts a country ahead of the others as far as economic development is concerned," he said in his welcome remarks.

He added: "So, our dear pupils, brace yourselves up. Who knows, this robotics seminar-workshop might (borrowing the words of our President, Dr. Reynaldo Vea) 'unleash [your] imagination' and create another Steve Jobs in you."

Admissions officer Kristela Anna G. Cruz also said the school hopes to shatter an impression that robotics is hard as it sounds. The participants of the seminar were a proof of that, she added.

She said MHSS is planning to hold a similar event yearly and invite a large number of participants in the future.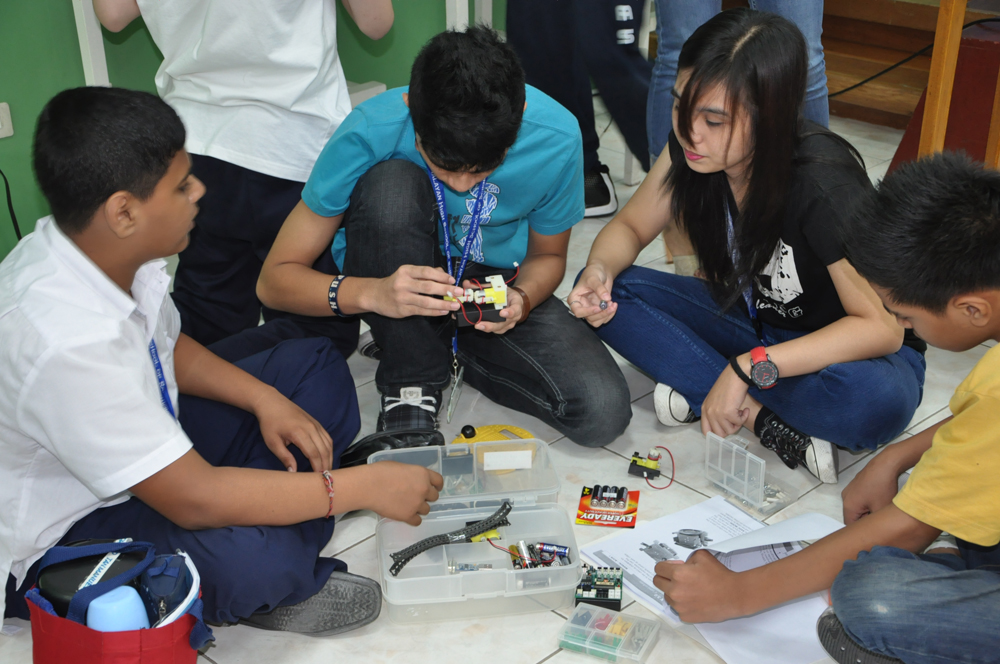 The students work together as they assemble their robot during the Malayan High School of Science's first robotics workshop-seminar.