MHSS Music Teacher Aims to Counter Students' Views vs Pinoy Folk Dances
Wednesday, September 21, 2011
When Malayan High School of Science (MHSS) music teacher Jezreel K. Lastra applied for a teaching job it was because he wanted to share his knowledge in the field of music. The 23-year-old member of the famed Philippine national folk dance company Bayanihan, however, is in for one of the biggest challenges of his life – to dispute the perception of many of his students that Philippine folk dances are "boring, not interesting and old fashioned."

In today's world where hip hop dominates the music scene, it no longer surprised him that they thought of the country's folk dances as uncool. After all, he had the same mindset until he discovered their beauty, diversity and richness. "We're very rich in arts, in our folk dances," he said in Filipino.

In his many travels abroad - a total of more than 30 places, including Spain, Australia, Scandinavia and the United States – as part of Bayanihan, Lastra said foreign audience would always be blown away by them. The group, which promotes the Philippine culture through dancing, would get standing ovations and accolades, he added.

At home, he observed that majority of Filipinos have yet to truly appreciate their performances. Thus, he took it as a big challenge to change the perception of the many, starting with the young.

During his class, he said, he let them watch the videos of the country's folk dances and the feedback has so far been good.

"They are amazed whenever they see these folk dances," shared Lastra, who teaches kundiman (traditional Filipino love songs) to sophomores, Asian folk songs to juniors and Western songs to seniors.

He said he hopes to inspire his students to be more appreciative of the Philippine culture. Aside from teaching folk dances, he encourages his students to participate in Bayanihan's summer workshops to expand their learning.

Musikamalayan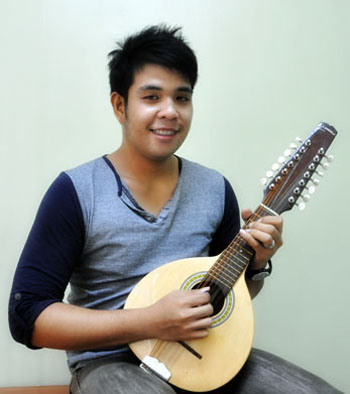 Malayan High School of Science (MHSS) music teacher and Musikamalayan head Jezreel K. Lastra plays the Philippine Bandurria.
Lastra is also into playing musical instruments and singing, prompting the school to pick him to head the Musikamalayan when it was created last year.

Musikamalayan performs in many programs and events inside MHSS. It has 20 girls, who are part of the singing group, and 20 boys, who play ethnic musical instruments such as kalinga instruments, angklung, kulintangan and rondalla and classical instruments such as piano and guitar.

"They're musicians, they're fast learners," he said of its members.

To be part of Musikamalayan, he said the students have to know how to read notes and they should be musically talented.

What's the significance of Musikamalayan? Lastra said it helps the students explore their artistic side. This is on top of allowing them to have time to relax and enjoy.

It also teaches them discipline as they learn how "to behave on and off the stage," he added.

Lastra's future projects for the group include participating in inter-school competitions. "They are very talented and fast learners. They can easily memorize."

With his efforts to expose his students to various music and culture, Lastra in the end hopes to inspire them to be more appreciative of the Philippine music.

Meanwhile, MHSS school principal Dr. Efren B. Mateo also acknowledged the benefits of joining Musikamalayan.

"The benefit that students derive from joining the Musikamalayan is the completion of their total development - especially in the appreciation of music and the arts. In addition, singing and playing instruments are part of the objectives in the Arts and Music curriculum of our school," he said.