Top-performing Students Cited in First Card-giving Day
Thursday, September 15, 2011
The top performing students of Malayan High School of Science (MHSS) for the first quarter have been recognized during the quarterly card-giving day at the MHSS gymnasium.

During the first card-giving day for the school year 2011-2012 held on August 20, the top 5 students in different year levels and those with distinctions were announced and honored.

The honor students for the first quarter are:
AWARD

FIRST YEAR

SECOND YEAR

THIRD YEAR

FOURTH YEAR

TOP 5

Snehita Polishetty
Jared Gabriel Tayco
Jerry Agnes
Horace Baria
Aemariez Legazpi

Marian Jessica Quing
Gabrielle Marie Simeon
Romeo Manuel Silva
Kyle Nathan Fazonela
Carlitos Gines Buendia

Carl Adrian Roma
Irene Rose Racelis
Karen Joy Dy
Jenni Anne Wee
Francesca Ysabella Magno

Jose Mayo Viray
Hymn Nuntasomsaran
Jade Ania Agnes
Jeremiah Banzon
Ma. Regina Fidelis Eala

With
Distinctions

Ma. Angelia Torres
Nina Isabel Duque

Stephen Elijah Pasol
Melissa Julianne Quing
Woon Hak Lee
Eun Jin Kim
Cara Isabela Ignacio
Kyla Dawn Mina
Jan David Nicdao
Hyeok Jun-Jun Seo

Claudine Rojas
Marquitta Jane Fabella
Aian Krystal Sulpico
Czarinna Anne Gonzales
Dominic Rainier Chuaunsu
Lia Lez Bijoux Celiz
Ryan Ray Capule
In his opening remarks, MHSS principal Dr. Efren B. Mateo reiterated that the total development of every student is a collaborative endeavor between and among stakeholders, namely the administration and support staff, teachers, students and parents.

School president Dr. Reynaldo B. Vea also graced the event. In his inspiring message, Dr. Vea said high school life is the most exciting and crucial stage in the academic life of students because it is here where they develop the aptitudes in the subjects they will pursue in their careers.

He also presented the school's achievements for the first quarter, one of which is the outstanding performance of the students in the general scholastic aptitude component of the 2011 National Career Assessment Examination (NCAE).

In NCAE, MHSS ranked No. 6 overall, No. 3 in science, and No. 4 in mathematics.

He congratulated the honor students and their parents as he challenged the other students to live up to the mission-vision of the school, particularly in achieving excellence in all their endeavors.

Two intermission numbers enlivened the program. Jedel Agron, a sophomore Argon student, played the saxophone with his own interpretation of the theme song from the movie "Titanic," "My Heart Will Go On." Not to be outdone, Horace Baria of I-Darwin wowed the audience with his violin rendition of Bouree.

The performances of Agron and Baria were strong proof that MHSS students excel not only in the sciences, mathematics and technology but in the arts and humanities as well.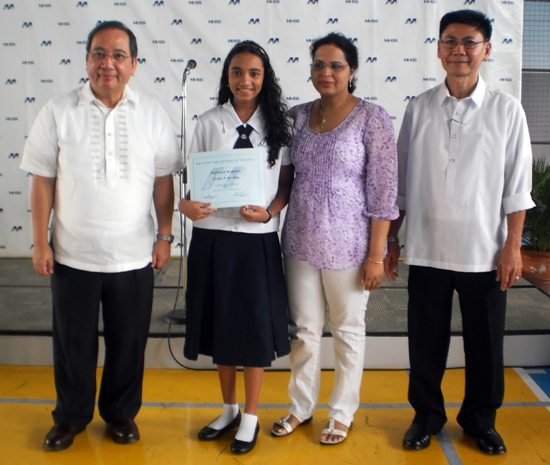 Malayan High School of Science president Dr. Reynaldo Vea, first honor Snehita Polishetty, a freshman, her mom and MHSS principal Dr. Efren Mateo pose during the card-giving day for the first quarter of school year 2011-2012.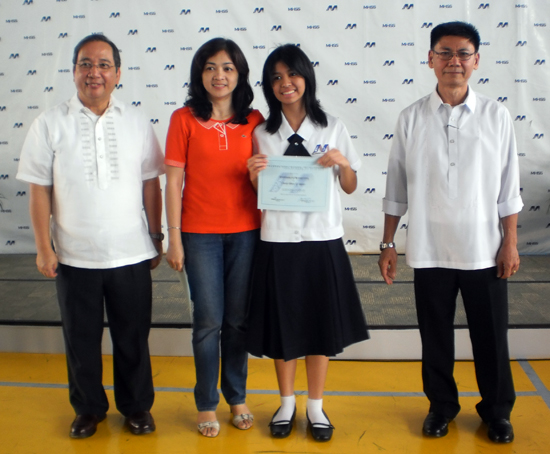 Third honor Jade Ania Agnes, a senior student at Malayan High School of Science (MHSS), shows off her certificate during the first card-giving day for the school year 2011-2012. With her in the photo are (L-R) MHSS president Dr. Reynaldo Vea, Agnes' mom, and MHSS principal Dr. Efren Mateo.