Malayan Science hosts interschool math, science competitions
Friday, October 19, 2018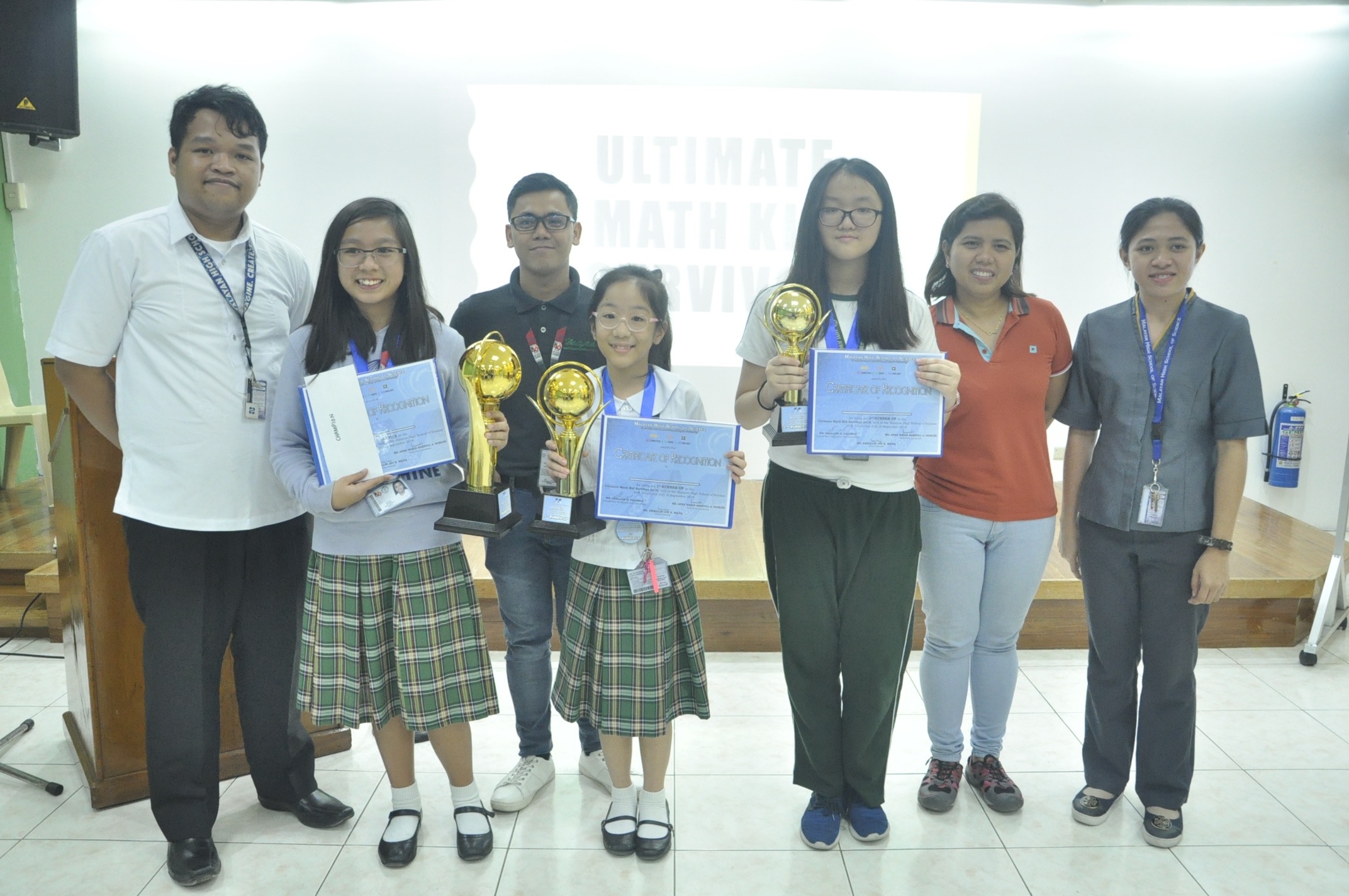 (L-R) Winners of the Ultimate Math Kid Survivor, De La Salle Zobel School's Athena Gabrielle, champion, Kimwell Cha Eun Jang, first runner-up, and St. Jude Catholic School's Tracy Lauren Lei, second runner-up, receive their trophies and tokens together with their coaches.
Malayan High School of Science (MHSS) hosted two interschool competitions last September 20 to culminate its celebration of the Mathematics, Science, and Technology (MaSciTech) Week.
The Ultimate Math Kid Survivor and the Science Whiz Kid competitions were participated in by a total of 99 students in Grades 5 and 6 along with 33 coaches.
These competitions were conducted not only to culminate the school's MaSciTech Week celebration, but to promote and stimulate interest in science and mathematics education.
"As mathematics and science are among our strengths, we want to pique the students' interest in these subject areas and provide them with an enjoyable and educational experience through the competitions," said MHSS Principal Emmillie Joy B. Mejia.
In the Ultimate Math Kid Survivor, De La Salle Zobel School's Athena Gabrielle Kimwell and Cha Eun Jang were declared champion and first runner-up, respectively, while St. Jude Catholic School's Tracy Lauren Lei finished as second runner-up.
In the Science Whiz Kid, St. Jude Catholic School's Nicholas Marcus Lua emerged as the champion, while Immaculate Heart of Mary College's Micah Rianna Bautista and Miriam College's Biyaya Balmes placed first and second runners-up, respectively.
"Besides giving the participants a valuable experience, we want to foster a friendly competition among them," added MaSciTech Department Head Anna Marie Robles.
MHSS has made a name for itself with its students succeeding in various competitions. Among the international competitions its students have participated and won in are World Mathematics Invitational, International Mathematics Competition, Challenge for Future Mathematicians, Singapore International Mathematics Olympiad Challenge, and Wizards in Mathematics International Competition.
MHSS continuously takes efforts, such as enhancement programs and extensive training sessions, to ensure students display mastery of subjects and are prepared coming in the competitions they participate in.
Established in 2006, Malayan High School of Science is one of the leading science high schools in the country. It offers advanced Science curricula, infused with Robotics and Technology subjects, houses state-of-the-art facilities, and uses digital technologies for instruction and educational resources.