MHSS math whizzes bag second place in 2016 MTAP Challenge
Monday, July 18, 2016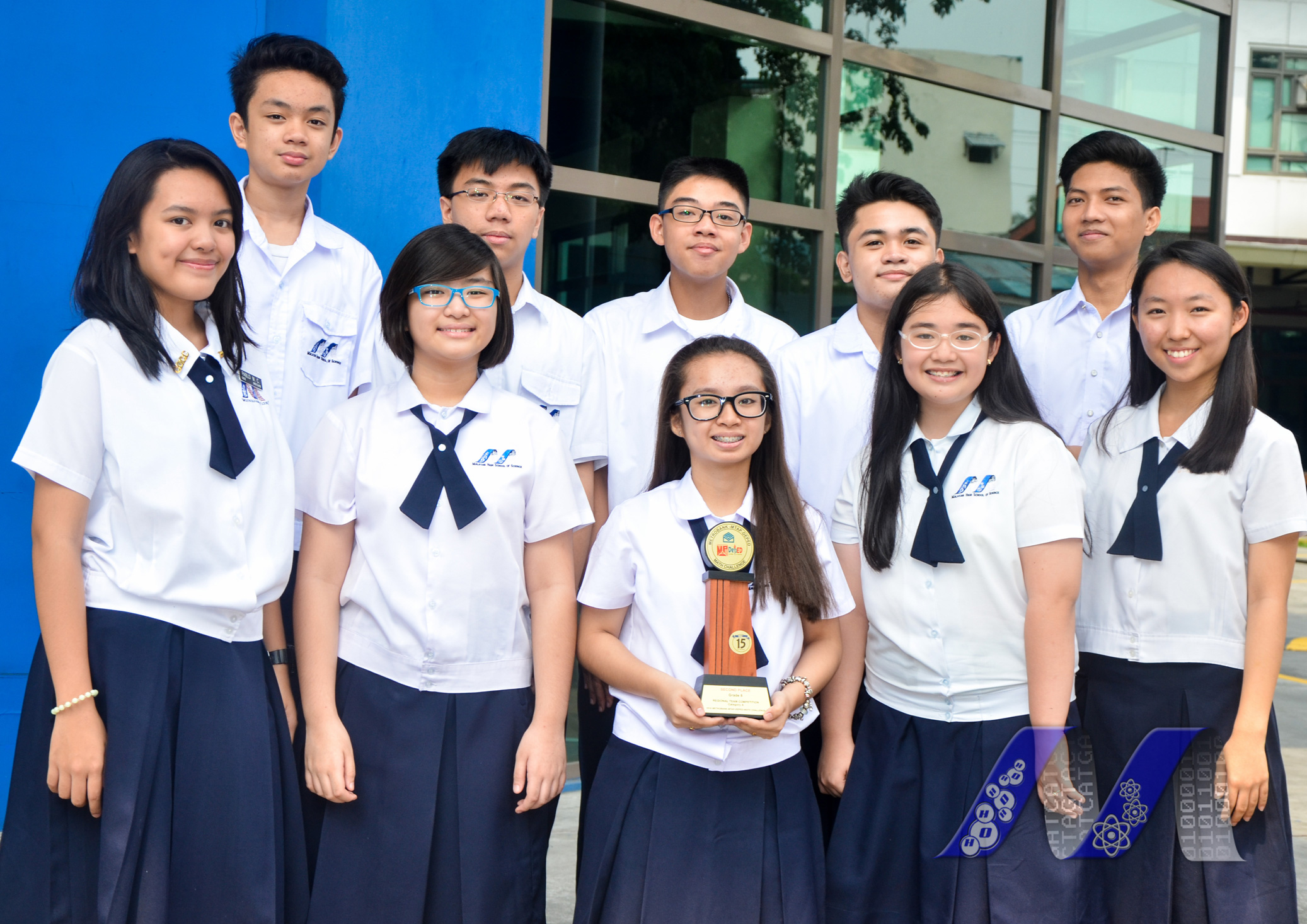 Caption: (L-R) John Paul Romero, Peter Bryan Jose Sy, Gabriel Francis Almario, James David Abiog, MTAP Coach and Mathematics teacher Benjo Mangalindan, Mary Margareth Celline Pablo, Audrey Gabrielle Tan, Mary Alaena Katelyn Magnaye, Kyara Christelle Riguerra, and Eunbin Cho.
Young math wizards from Malayan High School of Science placed 2nd in the 2016 Metrobank-MTAP-DepEd Math Challenge (MMC) held early this year.
Grade 8 students Audrey Gabrielle Tan, Mary Margareth Celline Pablo, and Peter Bryan Jose Sy copped the second place of the regional and sectoral team competition with their ability to solve complex mathematical problems in a matter of seconds.
According to the students' coach, Mr. Benjo Mangalindan, they underwent a series of rigid trainings once a week and even on Saturdays to further hone their mathematical skills.
Aside from the three, Grade 7 students Kyara Christelle Riguerra, John Paul Romero, and Mary Alaena Katelyn Magnaye placed third in the Area 1 Division for Grade 7 during the sectoral round of the MMC 2016, while Grade 9 students James David Abiog, Gabriel Francis Almario, and Eunbin Cho competed as qualifiers for Grade 9 Area 1 Division.
"The drills that we did were one-year advanced for their year level," said Mr. Mangalindan. "It was a good training strategy for them since they were tasked to solve advanced math problems in the competition."
Mr. Mangalindan added that the students' experiences and exposures in local and international competitions became an added bonus to the team, aside from their teamwork and mastery of their mathematical ability.
"The students' awards in this competition, not to mention those of the previous years, just show that MHSS live up to its name as a science high school," Mr. Mangalindan said.
The MMC 2016 was participated by more than 500,000 students and close to 50,000 public and private schools nationwide. It is considered as one of the biggest math competitions in the country.