MHSS is second-runner up in Philippine Robothon sumobot category
Wednesday, November 25, 2015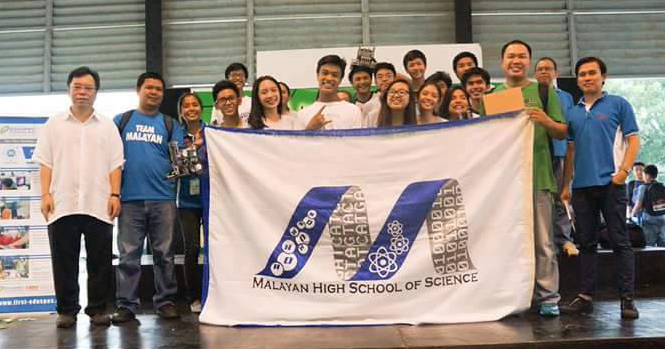 Seventeen students of Malayan High School of Science joined the different events of the 4th Annual Philippine Robothon held in DLSU Science and Technology Complex in Biñan, Laguna
A duo from Malayan High School of Science won as second runner-up in the sumobot category of the 4th Annual Philippine Robothon held at De La Salle University Science and Technology Complex in Biñan City, Laguna last October 24.
Grade 9 students Milstein Rei Cadorniga and Francis Almario won the Sumobot category toppling over 96 participants.
The competition was divided into three categories – Building and Programming, where students were to build and program a robot to accomplish a given task with a limited time; Soccerbot, where students were to create three remote-controlled-robots to play a soccer game; and Sumobot, where students will build a 25x25x25 centimeter robot that can push another robot outside a sumo ring using a remote control.
MHSS coach Diomar Alarde chose 17 students from grade 7 to 10 for the different categories of the contest – and two of the team members emerged as second-runner up.
"I felt quite pressured during the contest because I was thinking if the effort my partner and I will exert would pay off." said Almario.
The partners said that their determination to work hard was what made this win possible for them.
Although not all the teams of MHSS won, they regard the Sumobot team's win as the win of the entire Malayan team. The students said that they do not regret anything because they gave their all with the opportunity they were given.
The participants expressed their gratitude to the school for the values it has taught them – discipline, excellence, commitment, integrity, and responsibility.
"It's not always about winning. There are times that you win and times that you lose, but this doesn't have to bring you down. This should motivate you to aim for the better. The values that you learn is also what's important. You are carrying the name of our school so you should embody the Malayan values," Ramirez concluded. (with reports from Eunbin Cho)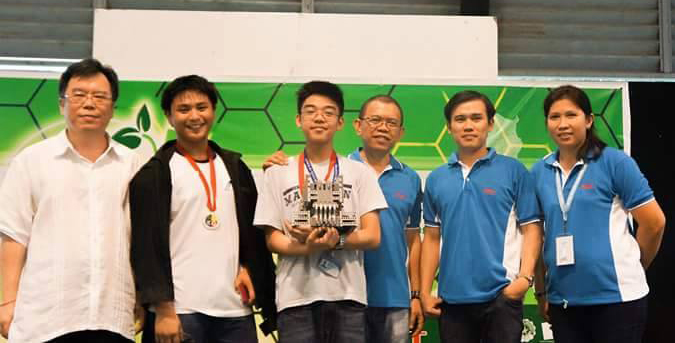 Milstein Cadorniga and Francis Almario, the duo for the sumobot competition, won as second runner-up, with Mr. Diomar Alarde, their Robotics Teacher.