Malayan swimmers win 6 medals in NCAA finals
Tuesday, November 10, 2015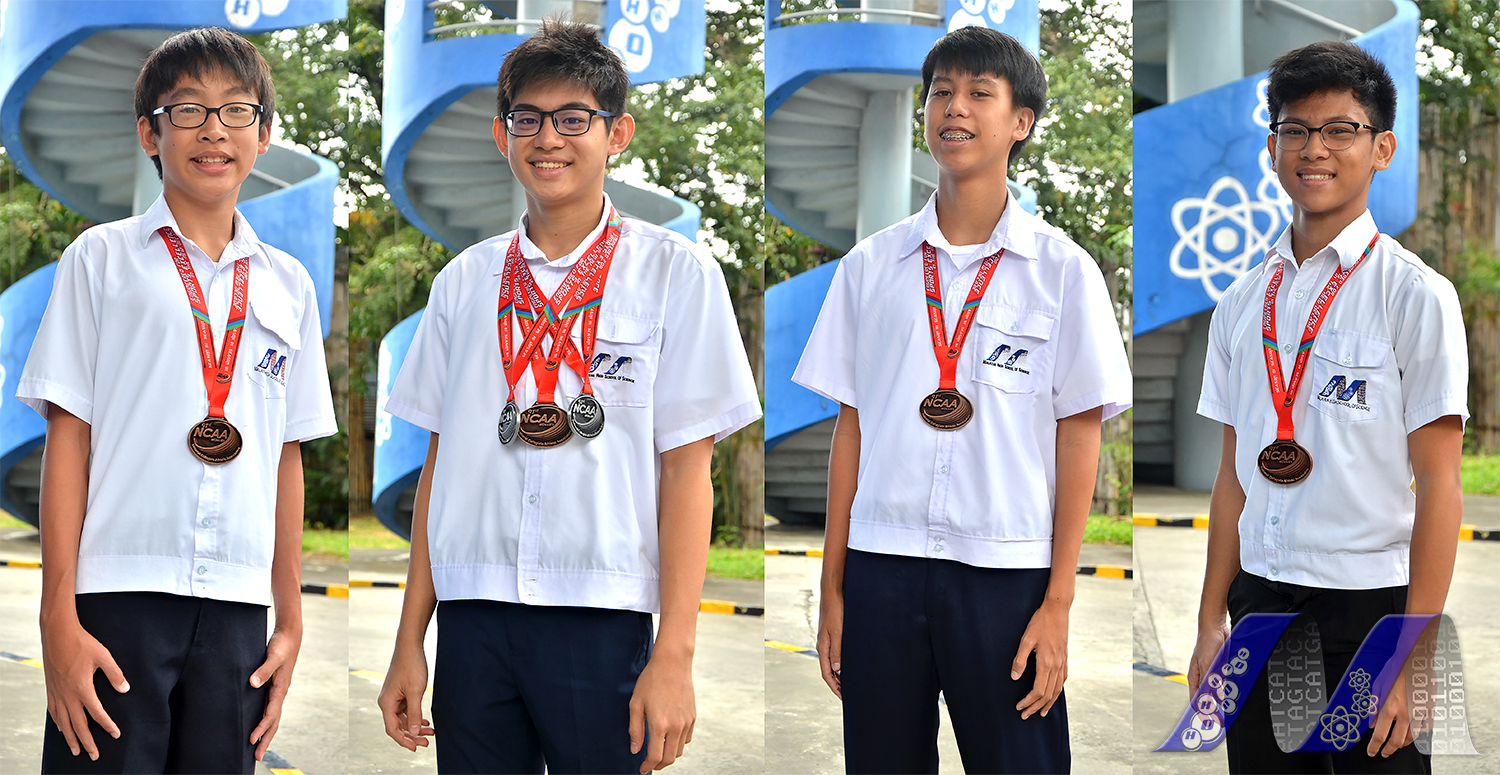 (L-R) Francis Sherwyn Tan, Jexter Janzen Chua, Zachary James Kekenusa, and Ross Rashad San Juan brought home medals in the recently concluded swimming events of NCAA Season 91.
Four Malayan High School of Science students bagged medals in the NCAA Swimming Competition last September 18-21.
Swimmers Zachary James A. Kekenusa, Ross Rashad B. San Juan, Francis Sherwyn Tan, and Jexter Janzen Chua won a bronze medal each in the 4x50 free relay. Chua also bagged silvers in the 50m and 200m breaststroke.
To prepare for the competitions, the team underwent intense training under the auspices of their coaches plus the balancing act of studying and playing at the same time.
"It is all about working hard to achieve your goal. Being a student-athlete is hard. I balance my studies and sport by having discipline and by not being distracted by things around," according to Chua.
Perseverance, patience, self-discipline, time management, and goal-setting are some of the values the players cited that have contributed in their winning.
The coaches played a significant role in the victory of the athletes, and the team agrees that they should have a good relationship with their respective coaches. The four swimmers are grateful to their coaches who pushed them to their limits.
"I would like to thank my coaches from my clubs for always guiding and supporting me and also for their patience in teaching me this sport," San Juan told.
All the four players were introduced early to the swimming sport. Since childhood, their parents would bring them to the pool to wade in the water.
"I loved the water since I was a kid and I wanted to swim like a professional swimmer," Tan told.
"I felt very happy with what we have accomplished because I know that we did our best to win," said Kekenusa.
The swimmers compare their sport to life in general saying that life is full of struggles, and the secret is perseverance in order to achieve one's goal.
MHSS has been reaping awards in different sporting events – the latest of which is the feat of the Red Robins in NCAA Season 91, where the team placed 2nd runner-up.
Last year, Ken Gil Romero, won two medals in the swimming event of NCAA Season 90.