Aguirre, Lugo live up their hoop dream in 4th NBTC All-Star game
Thursday, April 16, 2015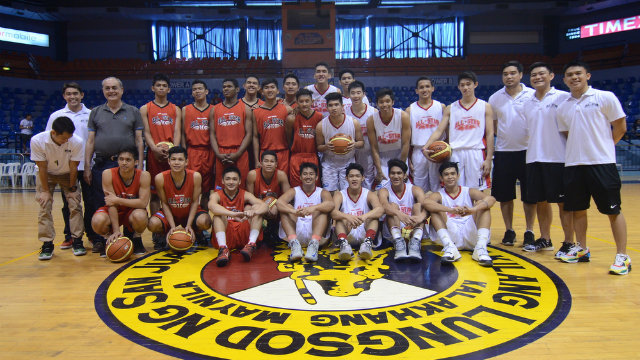 The country's young and future basketball superstars after the 4th National Basketball Training Center (NBTC) All-Star game.
Senior student-athletes of Malayan High School of Science (MHSS) Denniel Jay Aguirre and Noah Lugo were given chance to show their skills in the 4th National Basketball Training Center (NBTC) All-Star game, the country's breeding ground of future basketball superstars.
The All-Star game, which featured 22 up-and-coming student-athletes from both the recent NCAA and UAAP seasons, offered a venue for high school players like Aguirre and Lugo to showcase their talents in an event that brings together college scouts and the media.
"It is truly an honor to be part of the All-Star Game. Nearly a hundred student-athletes tried out, so I consider this opportunity as one of the biggest blessings in my basketball career," said Aguirre, MHSS Red Robins forward.
The event gathered eighty graduating high school ballers from all over the country for a screening, and after three days of tryout and physical examination, 22 were selected to be part of the all-star game.
"Since this is a once in a lifetime opportunity, I prepared hard for the tryout. I did intense conditioning and drill workouts to boost my skills," shared point guard Lugo.
The game comprised two teams, Dark and Light, which were led by seasoned coaches Joe Silva and JB Sison, respectively.
Aguirre played for The Dark team, while Lugo joined The Light squad. Each team was composed of young cagers from other high schools in Metro Manila.
"We are grateful to our family and to the whole MHSS community for their support. If not for them, we would not have reached this far," Lugo stated.
Prior to Aguirre and Lugo, former Red Robins Ace Basas, JJ Alejandro, and Justin Serrano made name in the NBTC All-Star. Serrano is a former qualifier in Jr. NBA Philippines and now a member for Mapúa Cardinals, while Basas and Alejandro now play for UAAP.
Apart from NBTC All-Star, Aguirre also qualified in SLAM Rising Star Classic, a league featuring 24 of the best high school cagers in the metro.
A member of Team Punks, led by Coach Gian Nazario, Aguirre played alongside players from De La Salle Zobel (DLSZ), Ateneo High School, San Beda College, and FEU among others.
"One of the lessons I learned with this experience is that you should never treat an exhibition game as an exhibition game. Rather, games should be treated as a championship," Aguirre said.
Both Lugo and Aguirre dream of playing for the Philippine Basketball Association, the country's biggest basketball league.