Soaring high for excellence: The Malayan Science 6th Commencement Exercises
Monday, April 13, 2015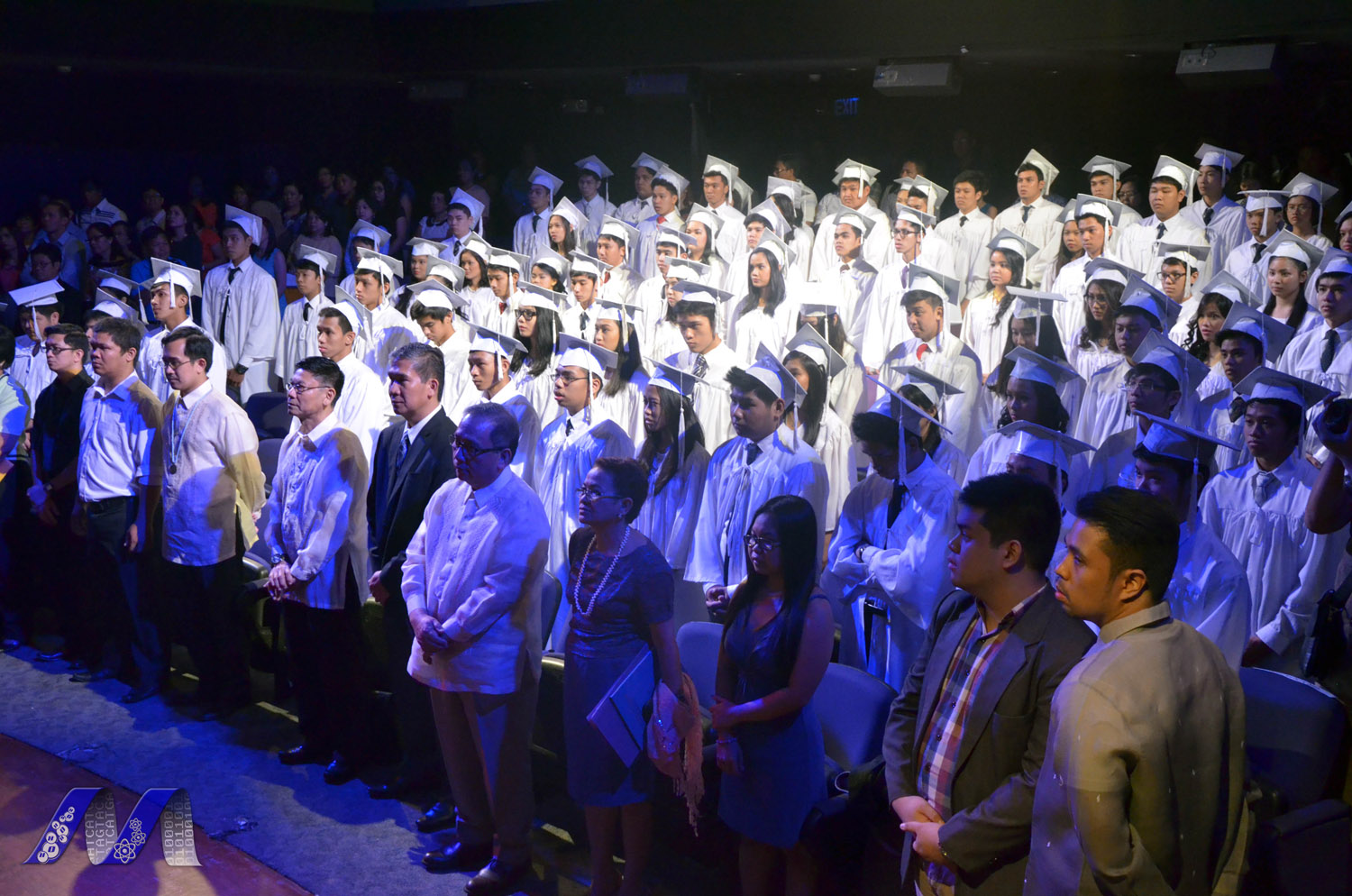 Ninety-nine students graduated from Malayan High School of Science last March 31. The 6th Commencement Exercises was held at the Carlos P. Romulo Auditorium at RCBC Plaza, Makati City, attended by students, their parents, the faculty, and administration of the school.
Dr. Larry Cabatic, executive director of the Philippine Science High School system, was the commencement speaker and guest of honor. He delivered an impromptu speech using Filipino. He used the imagery of a bow and arrow in sharing with the graduates the secret to success. He said that the pointed part of the arrow represents one's IQ, while the arrow's body represents EQ, and the tail-end represents the spiritual quotient.
"Yung arrow tip niya gagamitin ko yun na magsalarawan sa ating mga relevant competencies. Nahahasa yan sa pagbabasa ng mga aklat, sa pag-aaral sa mga eskuwelahan katulad ng Mapúa Institute of Technology," he said.
He told the graduates that the arrow's body should be straight – the character or attitude of a person should be pleasing.
"Yun pong body, yung straight na bahagi ng pana, gagamitin ko po yun upang magsalarawan sa bahagi ng ating pagkatao: ang ating character o attitude. Maganda po ba iyan? O baluktot?" he asked.
Cabatic told the graduates that a person also needs a spiritual quotient to be successful, as he compares it with the tail-end of the arrow.
"At ang pangatlong bahagi ay ang buntot. Gagamitin ko po iyon na magsalarawan sa ating mga x-factors, yung mga hindi nakikita, invisible pero nararamdaman yun. Hindi mo alam kung saan siya nanggagaling. Pero makikita mo yung resulta ng buhay. Pag dumaan ang taong iyan sa organisasyon, mararamdaman mo yung pag-asa, maramdaman mo ang impluwensiyang positibo" Cabatic opines.
Cabatic shared his rugs-to-riches story with the graduates. He was a son of a farmer and became a farmer himself. He needed to help in the farm while at the same time taking care of his studies. He urged the graduates to set their goals to good things and dream for a bright future for their family and for the society.
He challenged them to be good citizens in the future, to be entrusted with the task of nurturing the Philippines.
The class valedictorian, Horace Baria, in his valediction said that "overcoming ourselves is the highest achievement any person can attain, because we are our own enemy, and we have to climb our own mountain."
Baria concluded his speech by wishing the graduates that they become happy in their chosen fields.
After the graduation ceremonies, Dr. Efren Mateo was given a simple tribute as he announced his retirement this year.
Click here for the photos of the 6th Commencement Exercises.