12 MHSS students bag golds in robotics competition
Wednesday, February 11, 2015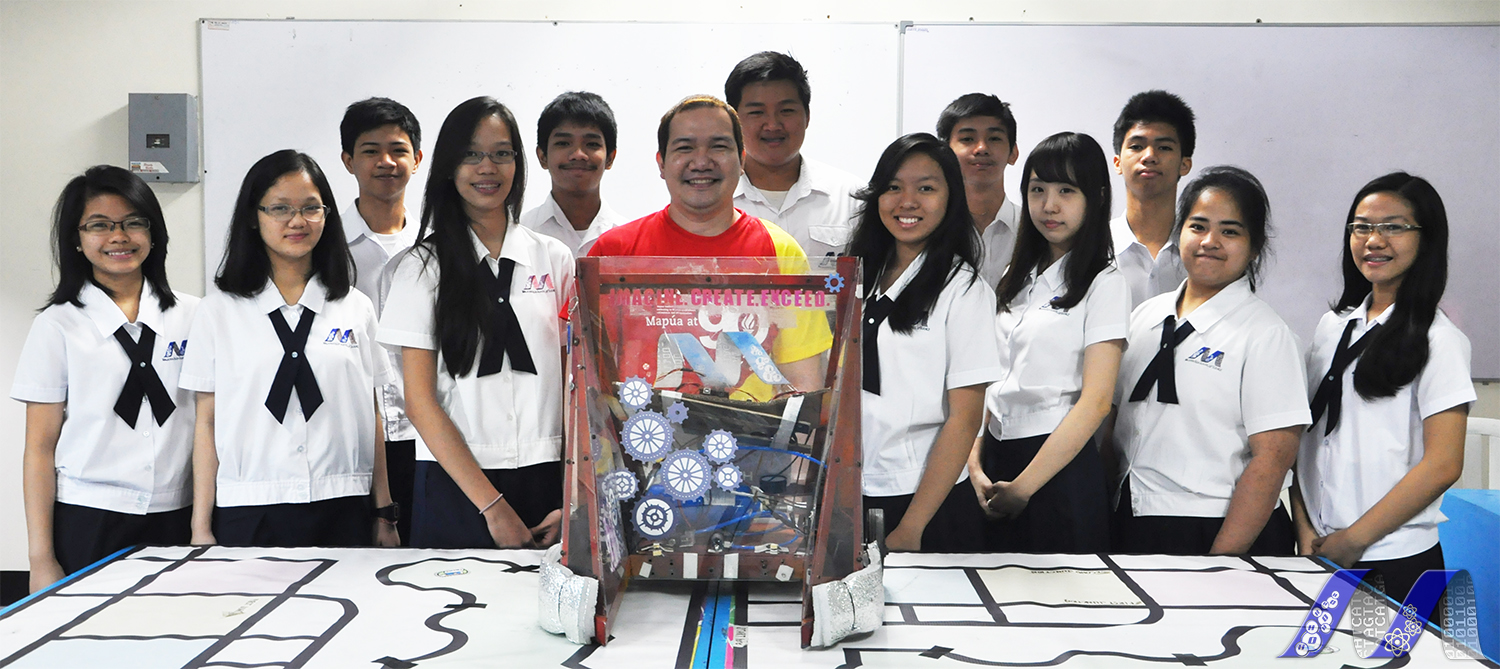 The 12 MHSS students stand proud with their robot. L-R, first row: Ariane Logronio, Christeen Faith Lim, Keren Paula Onchengco, Adviser Dan Aseron, Chelsea Leigh Tan, Ji Yeon Han, Chelsy Joy Gauiran, Adrianne Rilloraza. Second Row: Jeff Rephael Lateo, Marvin Ian Geron, Marco Jerome Salaguit, Adrian Lance Guevara, Anthony Gerald Santos
The Malayan High School of Science robotics team brought home the bacon in the Youth Math Science and Technology Festival of the Philippine Science High School last January 27, 2015.
MHSS bested nine schools participating after having successfully defended their "flag-bearer robot" from the enemy. Each team had 3 robots in their line-up and one was a flag-bearer. The objective is to have their flag-bearer robot reach the enemy's goal and teams can try to prevent their enemies from scoring by blocking or dislodging the flag with their robots. A round is won when the flag-bearer robot reaches the enemy goal with its flag still attached.
The team was composed of fourth years Ariane Logronio, Faith Lim, Lance Guevara, Anthony Santos, Marco Salanguit, Eunice Han, Ian Geron, Jeff Lateo, Adrianne Rilloraza, Chelsea Tan, Chelsy Gauiran, and Keren Onchencgo.
Why did MHSS win? Because they had "great teamwork and properly coordinated strategy," said Engr. Ildan Ponse T. Aseron, robotics adviser.
Before participating in the competition, the team planned and each member was given a task. They made the robots during and after class, and even during Saturdays and holidays. Part of the tasks were gathering tools and studying the smallest of the robot parts, so that they would be ready to troubleshoot if ever they encounter malfunctions.
MHSS has put premium on its robotics curricula. In fact, robotics is now being offered as an elective for all year levels.
"With continued support from the school, exposing the students to this kind of competition is very helpful in inspiring them in this field of technology," Aseron said.
Robotics has gone far in changing the way humans live, and move, and work.
According to Aseron, "Robotics has made a great impact in humans because it made our lives easier. A good example is on the manufacture of cars. Because of robotics, car manufacturers have the capability to mass-produce cars."
The robotics adviser shared that he would often remind his team and his students to "have a wild imagination to make an idea into a reality."
Patience, creativity, and critical thinking are among the essentials to being successful in the robotics field.
"In my experience on teaching this subject, I saw some students get too excited to build the robot, that they sometimes miss or forget to connect some parts; I saw some students give-up easily. So, patience for me is really important to learn robotics." opined Aseron.