MCL, MHSS meet Philippine education challenges with curriculum development, physical expansion
Thursday, February 5, 2015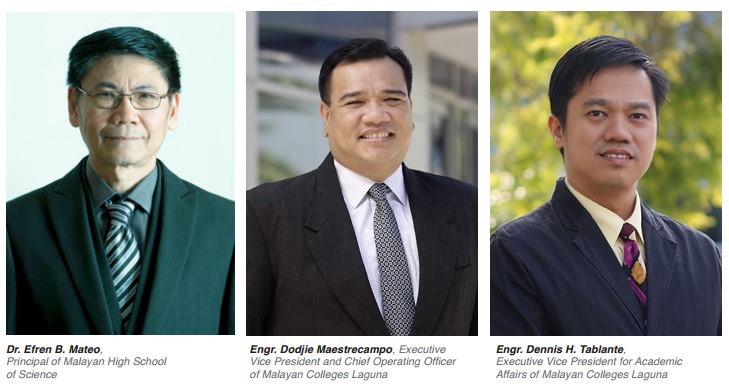 One of the most celebrated milestones for Mapúa Institute of Technology is the successful establishment of its subsidiaries Malayan Colleges Laguna (MCL) and Malayan High School of Science (MHSS).
Continuing Mapúa's tradition of excellence, MCL and MHSS have been making outstanding achievements since they were instituted in 2006. MCL has quickly emerged as a global center of excellence in South Luzon, while MHSS has joined the ranks of other science high schools as it demonstrates utmost dedication in its science-centered curriculum.
Education at par with international standards
For nine years, MCL has remained on track in realizing its goal of creating globally competitive community.
Carrying on the impressive performance of its alpha and beta batches, MCL has again recorded back-to-back successes in licensure examinations and industry reception. Its latest batch of engineering, maritime studies, and accountancy graduates obtained high passing rates in their respective fields.
Moreover, a number of students also reigned supreme in other regional extracurricular competitions, which demonstrated the holistic approach MCL practices.
To produce competitive graduates, MCL ensures that the curriculum it offers is up-to-date and relevant to the needs of the different industries. To test the students' aptitude, they are also encouraged to join exhibits, presentations, and competitions outside MCL.
Engr. Dodjie S. Maestrecampo, executive vice president and chief operating officer of MCL, credits this impressive chain of achievements to the implementation of the outcomes-based scheme and continuous quality management system.
"We have always believed that the marriage of OBE and our quality management systems is what sets MCL apart from other higher educational institutions in the country," he said. "This assures that everyone meets the standard that we set."
Curriculum synchronized with 21st century needs
MHSS, meanwhile, reaffirmed its unrelenting commitment to create technology-ready and globally competitive students after synchronizing its curriculum with the current trend in education.
Realizing that a robust science and technology education is necessary to unlock the students' productivity, creativity, and competitiveness, MHSS modified its math, science, and technology syllabi to accommodate the integration of robotics principles and concepts in the previous curricula.
The program teaches the students early engineering, basic programming, and innovative technology, allowing them to learn practical applications of science, technology, engineering and math. Likewise, this readies them for numerous opportunities in the ever-changing fields of science and engineering.
"We deemed this as very timely, as we are living in a highly technological world, and robotics is one avenue through which students can develop their technological skills. It is the first step in building 21st century skills like innovation and information fluency," said MHSS Principal Dr. Efren B. Mateo.
More robust curricula, physical expansion
To prepare its students in facing the growing challenges in education as well as the impending ASEAN Economic Integration, MCL and MHSS are directed towards strengthening their curricula and providing more conducive classrooms.
"Our past achievements are affirmations that we are doing things right. To complement these and to keep up with the challenges, we will continue to step up our efforts, not only to elevate our status in the field, but to also equip our students and faculty with globally competitive skills," said MCL Vice President for Academic Affairs Engr. Dennis H. Tablante.
On its ninth year, MCL eyes PTC-ACBET and PACUCOA accreditations. PTC-ACBET is the local counterpart of ABET which accredits engineering programs, while the PACUCOA accreditation formally recognizes academic programs that maintain excellent standards.
According to Engr. Tablante, securing these accreditations will further solidify MCL's position in the field of education and will entitle the graduates' mobility and opportunity to practice in other countries.
MCL will also open its doors to senior high school students starting next school year. A new building will be unveiled soon, which will house the engineering and architecture departments, as well as the new main library.
MHSS, on the other hand, will continue to ensure that all its students benefit from the opportunity that digital learning offers by intensifying its science, technology, engineering, and mathematics education.
MHSS will also intensify the school's pedagogical practices as part of the preparations for the full implementation of the K to 12 program.
"To aid the pace of this development, we will gear our teachers for the smooth implementation of the program. We will continue to engage them to be abreast with the latest trends in pedagogy. Moreover, we will also be working on the school's facilities to complement the program," concluded Dr. Mateo.
Read the special supplement on Mapúa's 90th Foundation Week released on The Philippine Star on January 28, 2015.