Malayan Science student aces Robot Virtual Games 2021
Wednesday, June 16, 2021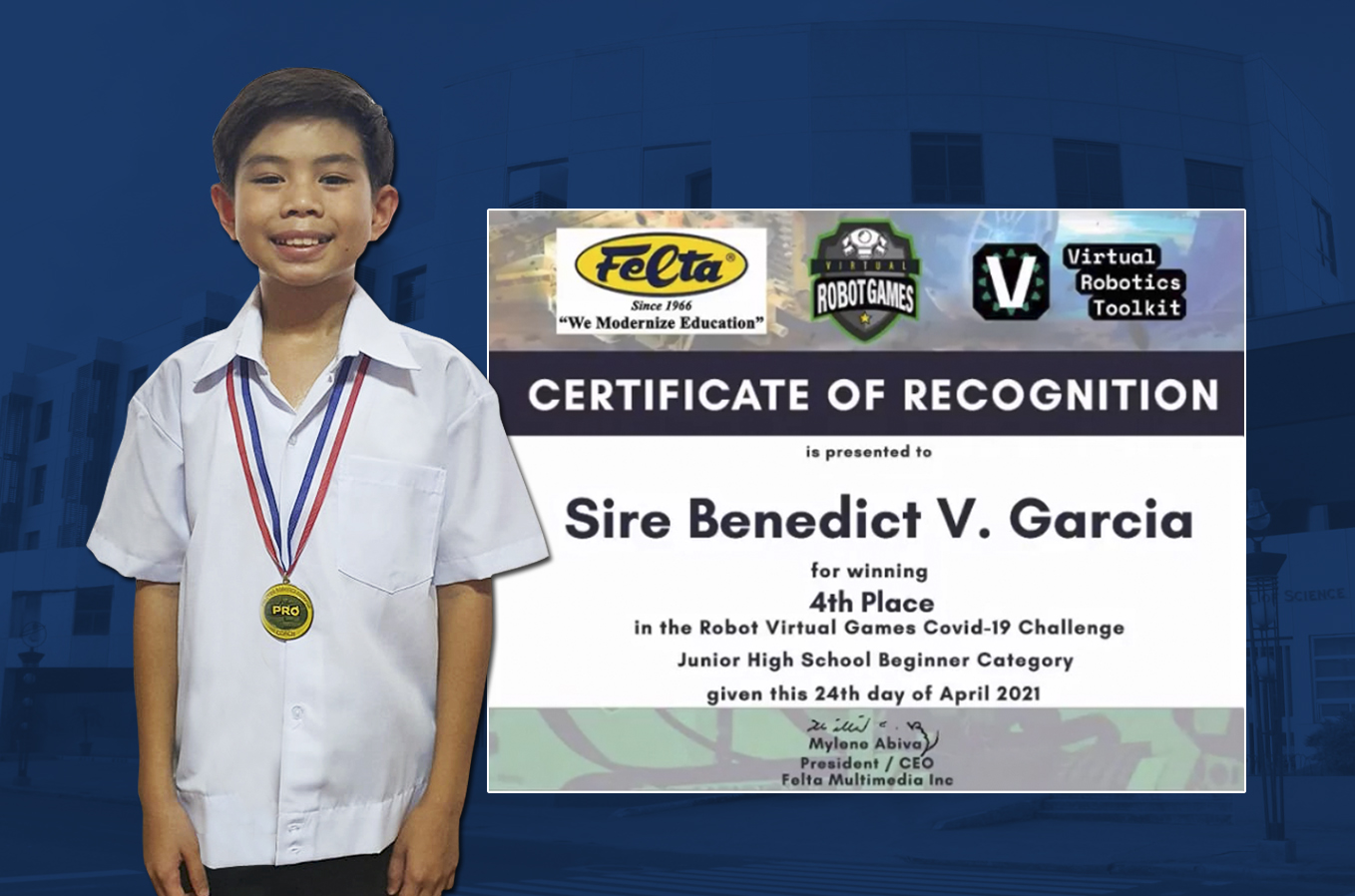 Malayan High School of Science continues to showcase strength in robotics, as Grade 7 student Sire Benedict V. Garcia placed fourth in the Robot Virtual Games 2021 COVID-19 Challenges under the Junior High School category, which was held last April 22 to 24.
The competition engaged participants to complete a robot mission of distributing vaccine to a city hospital to protect frontline workers against COVID-19, which required them to write a code for their respective robots.
Garcia has been actively joining regional and national robotics competition since 2017. Now competing in an international competition, he thanks Malayan Science for his recent success.
"I am thankful for my school, Malayan Science, for helping me win this game. I applied in the competition the tactics, shortcuts, and lessons I have learned from my Robotics class," Garcia said.
This success is a testament to Malayan Science students' brilliance, which exemplifies the rigorous training in Robotics and Technology that the school provides to hone the skills and knowledge of its students.
"Our instructors discuss to our learners the theory, rules, and mechanics, allowing them to think of multiple solutions to various problems. The content and exercises in our Robotics classes are designed to enhance our students' creativity, critical thinking, and problem-solving skills, making them equipped to create innovations," shares Dr. Emmillie Joy B. Mejia, principal of MHSS.
Malayan Science promotes opportunities for development and careers in the future to its students as they explore the world of Science, Technology, Engineering, Arts, and Mathematics (STEAM) when they take on Robotics classes. "Robotics is a skill that presents a lot of opportunities in this digital age," adds Dr. Mejia.
Malayan High School of Science, a leading junior high school in Manila, is among the few schools in the country with extensive Robotics and Technology subjects. Its robotics program has long been a pillar of its education with students recognized and awarded in various local and international robotics competitions.